So last week was the week before finals and I got all distracted from writing about the food I cooked. And I got all discouraged about my abilities as a chemist from my final I had for one of my classes. It's was an oral final, and the professor and the TA's were absolutely brutal. Good thing, though, was they were harsh to everyone, so it made me feel a little better. And it definitely confirmed the fact that I don't want to be a chemist for my whole life. I want to cook and clean and be a mom someday. That's what I want to do with my life. And plus being around hazardous chemicals everyday is not fun at all. Like the other intern in my lab said, "If we continue to work here, we're gonna have cancer by the time we're 30!" I definitely don't plan on getting cancer anytime soon.
Anyways, even though my week was busy and an emotional rollercoaster, I still cooked 3 out of the 4 meals I had planned for the week. So on Monday, I made the Chicken Dumplings in Miso Broth from Seasons. It was a little rainy and grey out so the hot soup felt so good in my tummy. And I love miso soup just on its own, but with the broccoli and chicken dumplings, it was delicious! Unfortunately, there was something in the soup that made it go bad the next day, so if you make it, try to eat it all or just throw it out. It is not good the second time around.
Chicken Dumplings in Miso Broth
1 lemongrass stalk, roughly chopped
2 garlic cloves
2 scallions, chopped
zest of 1 lime
1/2 lb. skinless, boneless chicken breasts
1 bunch watercress
salt and pepper
Broth:
peanut oil
1 1/2 in. piece fresh ginger, grated
1 shallot, sliced into rings
2 garlic cloves, thinly sliced
2 scallions, cut into 1/2 in lengths
1 red chili pepper, sliced into rings, optional
4 c. miso soup stock*
1 tbsp fish sauce
2 tbsp soy sauce
2 tbsp rice vinegar
6 oz shiitake mushrooms, stalks removed
large handful broccoli florets
For dumplings, put first three ingredients into food processor and process until finely chopped. Transfer to bowl and stir in lime zest. Put chicken breasts into food processor and process until coarsely chopped. Add to bowl. Finely chop small handful of watercress and stir into chicken mixture (I used my fingers to mix it all together). Season with salt and pepper, then form into small dumplings (about size of walnut). Cook in a steamer for 5-6 min, or until cooked through. (Mine took about 7 minutes)
To make the broth, heat oil in large sauce pan over low heat, and add next three ingredients and fry until soft. Add rest of broth ingredients and bring to a boil. Reduce heat and simmer for 2-3 minutes until veggies are just cooked. Stir in the remaining watercress and serve with dumplings.
*from paste or any other form. Mine was from a powder that I mixed with water. This amount does not produce a lot of broth in the soup so you can add more broth. I added 6 cups instead of 4.
Also on Monday, I marinated the pork for Tuesday's meal, Roast Pork with Pineapple Glaze. I would really rather not talk about this one, since it didn't turn out right and I need to do some more tweaking on it. It was fairly good, but I think I have an idea how to make it better. And plus that night I was feeling kinda down after the terrible final, so it probably wasn't as bad as I think it is, but I will postpone the recipe until I try it again, in about 5 bazillion years. Or whenever I get over feeling crummy about that final.
And then on Wednesday, I made Sirloin with a Mushroom Glaze, minus the mushrooms. And oh my goodness, it so made up for the meal from the night before. I don't think I have had steak sauce as good as in this recipe. And it's so simple really. (Ok I've probably had better steak sauce, but remember: emotional rollercoaster!) I served it with a salad and some herbed baguette slices and balsamic vinegar and olive oil. Mmmmm...
Sirloin with Mushroom Glaze
1 to 1 1/4 lb. boneless beef sirloin steaks, cut 1/2 in thick
herb pepper or other favorite seasoning blend (I used Jamaica Me Crazy)
1 tbsp. butter
3/4 c. beef broth
1 tbsp hoisin sauce, teriyaki sauce or Worcestershire sauce (I used Worcestershire)
2 c. sliced fresh mushrooms
1 onion, sliced into 1/4 in. slices
Melt butter in skillet over medium heat. Add steak and cook for 8-10 minutes until desired doneness, turning once. (8 minutes for medium rare, 10 for medium). Transfer to a platter or plate and cover with foil to keep warm.
For glaze, add beef broth and your choice of sauce to pan. Cook and stir to loosen any bits on bottom of skillet. Stir in mushrooms and onions. Cook over medium-high heat about 8 minutes until veggies are tender and there is about 1/4 c. liquid left. Slice steak thinly against the grain, then top with veggies on sauce when served.
Ahh.. I cannot wait to make that dish again!
Unforunately, I did not get around to cooking on Thursday or Friday or Saturday. We had thai food on Thursday (curry, yum!) and we had dinner with Tim's parents on Friday and last night we just ordered a pizza from Papa John's. But tonight, I will make the Spanish Delight. I bought the ingredients for it, so I must make it. I am a little anxious to try it, but I think it will turn out ok.
This morning, I did make breakfast though. I made Ina Garten's Sunday Morning Oatmeal. I'm not an oatmeal fan, but I really liked it and am excited to have it again for breakfast tomorrow morning! It was so easy to make, it literally took ten minutes. You could totally make this on a weekday without worrying about it taking up too much time. And it's sweet, so kids will love it, and mom's will love it too because its filled with fruit.
Sunday Morning Oatmeal
1 1/2 c. milk
1 1/2 c oatmeal (it says to not use instant, but I did and it was just fine!)
1 banana, sliced (cut this up at the end in order to prevent it from turning brown)
1/2 c. dried cherries
1/2 c. raisins
chopped nuts, optional
maple syrup or brown sugar, for serving
Heat the milk plus 2 c. water in a saucepan until it starts to simmer. Add the oatmeal, bring to a boil, then lower the heat and simmer for 4-5 minutes, stirring occasionally, until thickened. Off the heat, stir in the fruit. Serve hot with maple syrup or brown sugar on top and with a splash of milk, if desired.
Well, I really should get writing my paper for my history class. It's based on this book: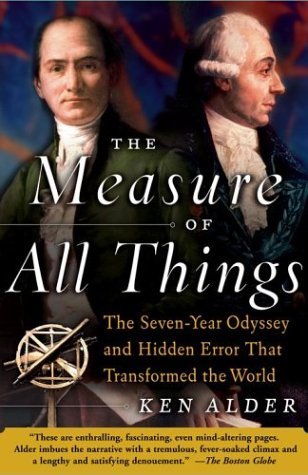 The book was surprisingly good. I thought it would be just one of those dry, boring, fact-laden books, but the author kept leading me along and then at the end of each chapter, made me wonder what happened next. If you are interested in math or any science or just like to read about history, this book is a great read. Pick it up next time you are at the library and give it a try.
Time to go write!
Hezký den! (Have a good day!)
Like this recipe? Sign up for our email list to get weekly recipe digests, updates on events, get a free e-cookbook and be entered for a monthly drawing for a free cookbook (Up to a value of $31.95. Limit one per person). Who wouldn't want all that?