Whistler is one of my favorite places to visit, in summer and in winter. One of the great things I love about Whistler is the food. Yes, it is a bit spendy, but it's almost always delicious. Whistler is really great about alternative diets, whether you are vegan/vegetarian or have an allergy. Almost every single restaurant I have eaten at there has been very accommodating, whether the place is in the village or on the mountain. I wish I could find places down where I live that are so great with my allergies!
Growing up, my parents would take me to Whistler quite often because the company my dad worked for would have regional meetings up there. I always loved visiting and have so many good memories there, including one of me doing a cartwheel in the middle of the Village Stroll right at the base.
Whistler is a great place for skiing, hiking, and mountain biking, but I'm here to talk about the food! On this last trip, Mark and I started out at the Brewhouse. Located at the end of the Village Stroll, the brewhouse has good food and great beer! This trip, I tried their salmon burger (minus the wasabi mayo of course), which was amazing! It was the best salmon burger I have ever had. The Alta Pale Ale went down really nicely with the burger. Mark got their regular burger and tried their Lager , which was also really tasty. They had a band playing the first night we were there and they were really good, trombone and all!
The next day, we ate breakfast in our room before heading out to wander the Village Stroll. Of course, we had to stop at Starbucks, which had better mochas than the ones they make down here. Then we wandered around for a bit, taking pictures of everything! We searched out this little pastry shop we visited last time, but found it was gone and replaced with a taco bar. Darn :( it was one of the few places that had really good vegan pastries that I could eat!
We stopped at the IGA Market to pick up stuff for lunch. Of all the time I have been to Whistler, I have never really been inside the IGA; we always went to Creekside Market or the other little grocery store along the Village Stroll. This one was way better! They had a huge deli with lots of delicious yummies. Their prices were much cheaper too! We forgot to bring jam to make PB&J sandwiches, but we found some cute little jam jars that we bought to bring back as souvenirs. They were so cute!
After gathering provisions, we headed back to the room to soak in the hot tub. It was warm out, but not too hot, so the hot tub felt good. We napped and watched tv for a bit, just taking a nice time out, then we headed to dinner. I had been dying to eat at Sachi Sushi since the last time I had eaten there almost 10 years ago, and so we decided to try them out. The sushi was delicious! We got miso soup, plus 3 nigiri: salmon, yellowtail and eel. They were all just as good as where we normally go for sushi. We were still hungry after that so we ordered salmon rolls, tuna rolls and Mark ordered their Sachi roll, which he really liked, but I didn't eat because it had mayo in it. I would highly recommend eating there if you like sushi.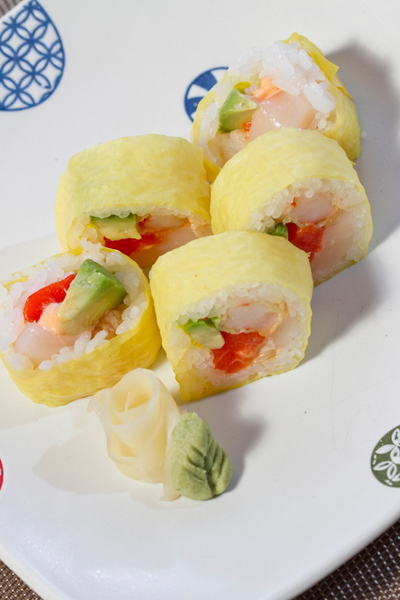 From Sachi Sushi
After sushi, we headed to the Garibaldi Lift Co. for some drinks. Simon, our bartender, was a very friendly guy who chatted with us because the place was mostly empty due to it being a Monday in September. We watched plates of nachos and other goodies come out of the kitchen, all of which looked great. The drinks were a bit expensive, but they were tasty. I broke down and ordered some yam fries with a balsamic glaze, and they were oh so heavenly. I can't tell you how much I love yam fries, but the balsamic glaze put it over the top with its sticky sweetness that paired perfectly with the salty fries. I want another batch now!
The next morning, we decided to try a local place for coffee. The Mount Currie Coffee Co. was right around the corner from our place, so we gave it a try. I got a vegan chocolate raspberry bar that was delicious, while Mark headed straight for the espresso. He said that it was better than Starbucks, so we frequented Mount Currie for the rest of our trip. I wanted to do a short hike up on the mountain, so we packed some goodies and headed for the gondola. The hike turned out to be a lot longer than we expected, but it was so beautiful up there! If you love to hike, be sure to do the High Note Loop. The lakes and mountains are gorgeous!
After our hike, we headed down to shower and then have dinner. We were so hungry that we just ended up at the Brewhouse again. This time I ordered the Thai chicken salad, with the dressing on the side just in case. It was the best Thai chicken salad I've ever eaten, and it didn't even need the dressing because it was so flavorful. I loved that it wasn't just chicken and lettuce, but they made a carrot, snap pea, shiitake mushroom and bell pepper slaw that was mixed in with the chicken. I don't like mushrooms, but those shiitakes were delicious! Mark went for the Hawaiian pizza, and he said it was the crispy crust that he loves. Next time, we decided we are going for the poutine since it's a classic and neither of us have ever tried it.
Even though we had all that good food, the best meal was breakfast on our last day. While riding the Peak to Peak gondola, we chatted with a couple from Stanwood, WA. They told us about the Wildwood Cafe, which I had never heard of it. It is tucked in behind the tennis club and was reputed to have the best breakfasts in town. Of course, we had to try it! Oh my gosh, it was delicious. I got the no-eggs breakfast, which included roasted potatoes, some tomatoes, cranberry toast, and sausage. Mark got the Benny of the Day, which was eggs Benedict with avocado and bacon. Everything we ate was delicious. The cafe has this open lodge feel, which I loved. It was the perfect ending to a great trip. I can't wait to go back to eat at Whistler again!
If you are headed to Whistler, here are some of my favorite places to eat at:
Creekside:
I love Dusty's, which is the big name over at Creekside, but I'm also a fan of Roland's Pub. It's more of a local's hangout, but they have delicious yam fries.
Village:
21 Steps is a great romantic little eatery that is, you guessed it, up 21 steps. You can people watch from above while dining on deliciously fresh seafood. A little pricey, but it's so worth it. I also recommend the Dubh Linn Gate, right at the base. It gets crowded because it's right at the base of the gondolas, but I loved their Steak and Guinness Pie.
On Whistler:
The Chickpea Hut is now my favorite place to eat because of the vegan chickpea stew they have there. It's so warm and comforting during a cold ski day. The Roundhouse is the main place to eat, and they have good food too, but it can get really noisy and crowded there. Good news, is that everywhere on the mountain, they have their menus labeled with Vegan/Vegetarian, so it's easier for people with alternative diets to eat without having to ask a million questions.
On Blackcomb:
I love the Glacier Creek Lodge. It's not as big as the other lodges, but they have a good selection of food. Their soup and noodle bowls are my favorite. The Horstman Hut is also a fun place to eat, since it's on the top of a ridge and only accessible by riding either a chair or a T-bar. They serve mostly heavy, comfort food like meat pies and stews.
If you have the time, take the trip to Whistler. It's an amazing place filled with lots of people from all around the world and tons of good food.